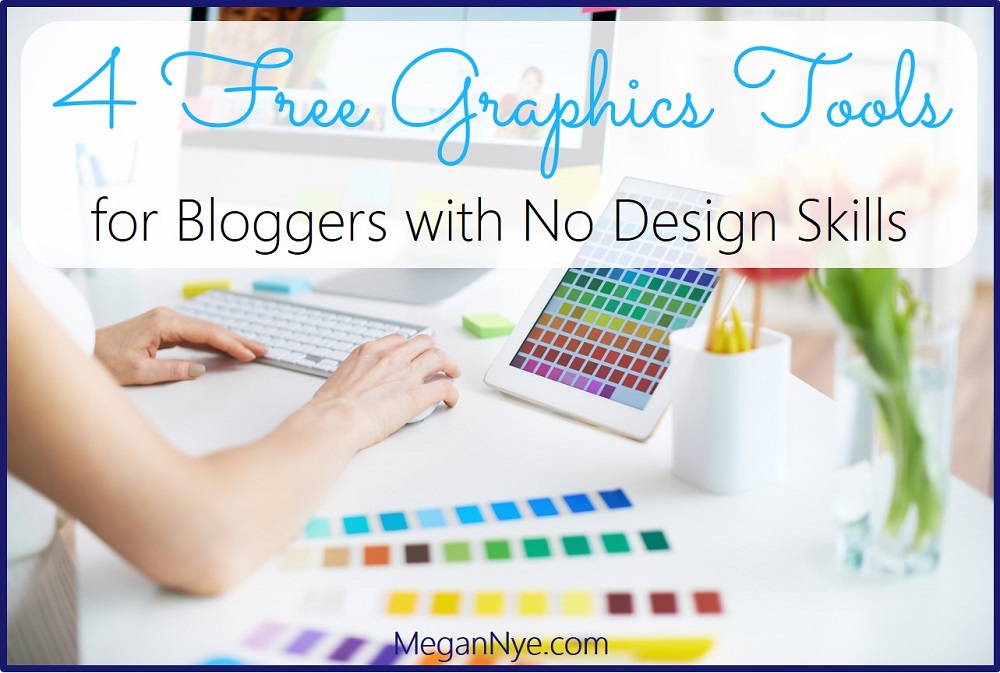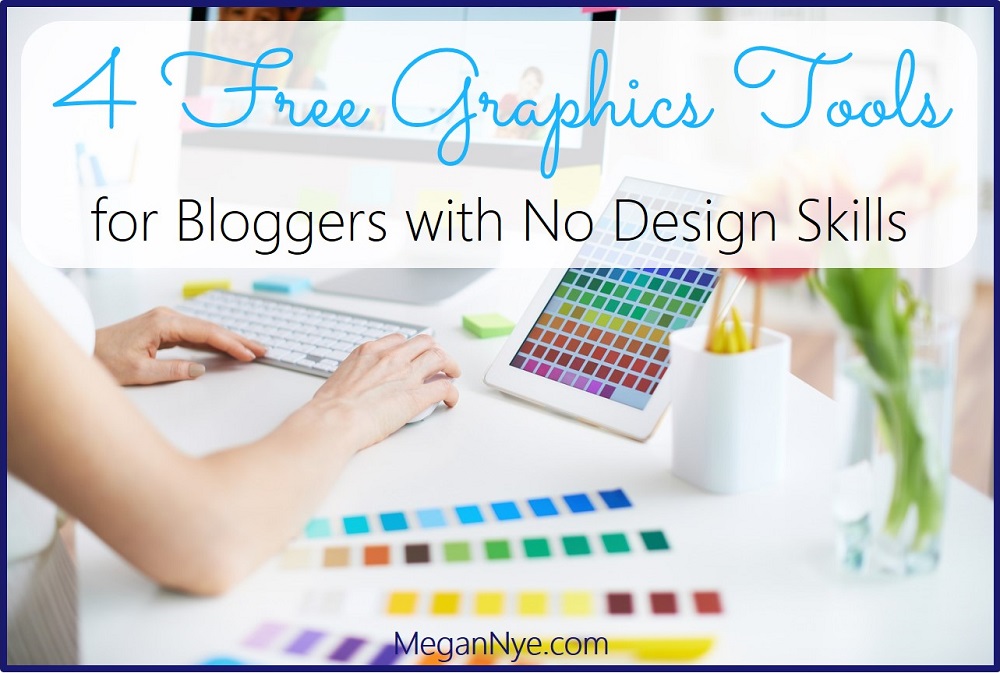 Blogging guru Jeff Bullas reports that "articles with images get 94% more total views."
Whoa!
If the idea of attempting to create a halfway decent blog image has you mopping sweat from your face, chin up. Even people with no eye for design can easily and quickly put together stunning images that get eyes on your blog and drive traffic from social media.
And you can do it for free.
Here are four invaluable tools for creating blog graphics that enchant your readers and get results.

1. PicMonkey
While PicMonkey does have an inexpensive, paid option, most amateur designers will have more than enough resources with the unlimited, free version of the tool.
Use PicMonkey's photo editor to do some essential basics like crop, cut your image to a specific shape, apply a transparent background, sharpen, resize, and tweak colors and exposure settings.
Then go crazy.
Utilize filters, apply funky effects, add attractive overlays and frames, play with textures, and insert text in tons of fonts. Tap into some pre-made themes and templates. Even zap red eye, whiten teeth, or apply post-picture eye shadow to your subject!
Need to make a collage? PicMonkey makes it easy with its drag-and-drop, super-fast collage maker.
2. Canva
Canva's used by millions of people and big companies alike. Again, if you want even more features, you can sign up for the paid plan. But the free version allows anyone to produce countless, easy, professional, designer-friendly graphical elements.
Canva lets you create a graphic of any size but has loads of helpful templates for churning out perfectly sized Pinterest images, Facebook ads, LinkedIn banners, Twitter headers, and more.
Once you're into Canva, choose a ready-made design template and go, tweak that template, or design from scratch. Grab grids, shapes, frames, lines, and icons. Make beautiful charts! Choose from stunning text pairings, and apply backgrounds.
Want to save time and money?
You can use any of Canva's free photos or buy $1 stock photos while you're designing. (Of course, you can use your own photos in any design too.) You can also spring for inexpensive, paid templates to spiff up your design even further.
Want to improve your skills? Delve into Canva's free Design School to learn basic to advanced techniques.
3. Landscape
Do you wish you could easily transform one image into a set of images perfectly sized for all your social media channels?
Landscape is the answer.
Upload your image and choose any combination of the following networks:
Twitter
Facebook
Instagram
LinkedIn
Google+
Pinterest
YouTube
Then pick your image sizes. Need a LinkedIn profile image, LinkedIn logo, and Pinterest pin? Simply select those options. Then, for each selection, move the provided zooming and cropping box over your image until you're happy.
Looking for something outside the box as well? Choose your own custom dimensions for your image.
When you're finished with your easy cropping, Landscape downloads a ZIP file containing all of your finished image files. In a few easy clicks, you're social-ready.
4. What's Already on Your Computer
Don't discount the power of the software sitting on your machine.
Got MS Paint? It's perfect for cropping, resizing, and rotating.
How about Microsoft Office? The images in this blog post were created quickly in Power Point!
Open up a blank PowerPoint presentation, drop in your photos, add shapes or lines, create frames, and insert text. You can adjust shape transparency to create overlays and even add "Artistic Effects" to your images with the look of watercolors, sepia, and more.
When you're finished, right-click to group all of your design elements together, then right-click again to save the final design as an image file.
Enjoy your finished, personalized, and beautiful designs!
What's your favorite, free, fool-proof design tool?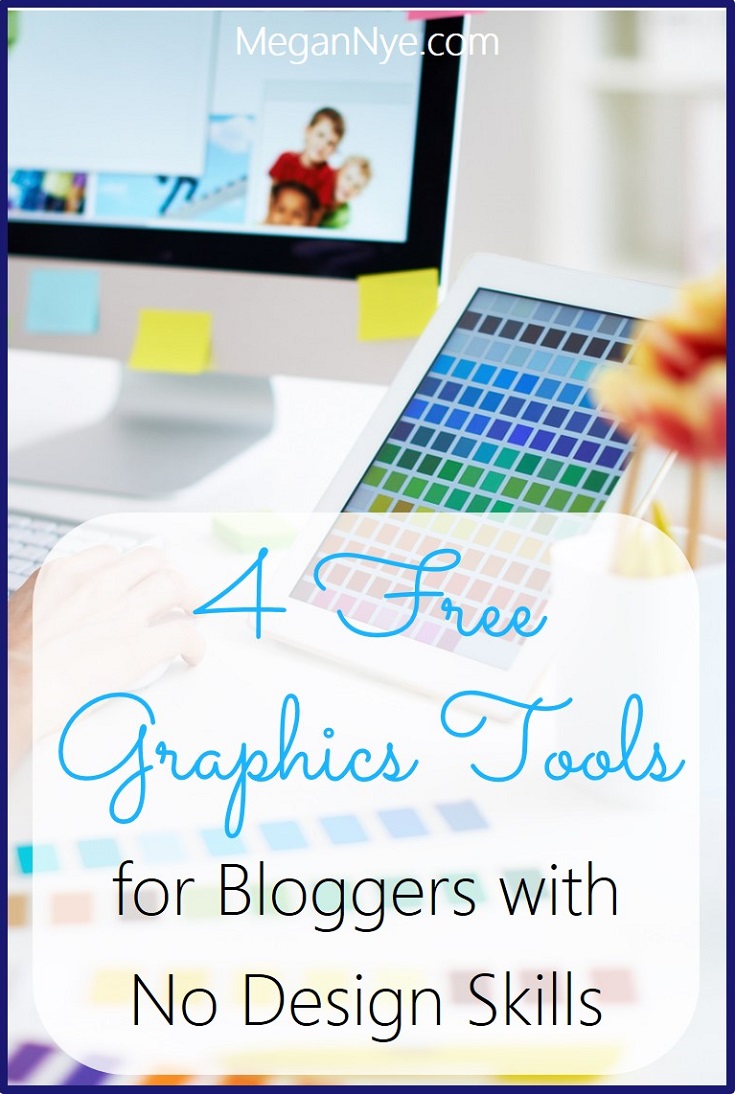 Megan Nye is a personal finance freelance writer and content strategist. Her writing transforms even complex money matters into easy-to-understand and actionable information. She frequently covers topics of credit & debt management, retirement planning, investing, insurance, mortgages and loans, college planning, budgeting, and financial literacy.
Megan works exclusively with financial services businesses to create articles, infographic copy, and case studies. Her writing has been featured by Business Insider, U.S. News & World Report, Credit Karma, Citi, Wells Fargo, American Express, Prudential, U.S. Bank, Discover, Quicken, Fidelity Investments, and Merrill Edge.